Xi Jinping Meets with Former Philippine President Rodrigo Duterte
2023-07-17 23:25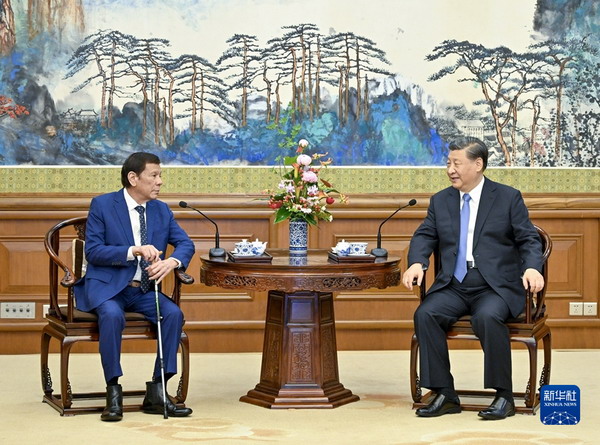 On the afternoon of July 17, 2023, President Xi Jinping met with former Philippine President Rodrigo Duterte at the Diaoyutai State Guesthouse in Beijing.
Xi Jinping pointed out that while being President of the Philippines, Mr. Duterte resolutely made the strategic choice of improving relations with China with a sense of responsibility for the people and history, making it possible for China-Philippines relations to return to the right track and thrive and prosper, and contributing significantly to the friendly exchanges between the two countries. Xi noted that China and the Philippines are both developing countries in Asia, and the development of the two countries is rooted in a friendly neighborhood environment and the win-win cooperation of the big Asian family. China upholds a neighborhood diplomacy of amity, sincerity, mutual benefit and inclusiveness, and has always been committed to forging friendships and partnerships with its neighbors. China always values its relations with the Philippines, and is ready to work with the Philippines to promote the steady and sustained development of bilateral relations. Xi Jinping expressed the hope that Mr. Duterte will continue to play an important role in the friendly cooperation between the two countries.
Rodrigo Duterte thanked China for its valuable support for the Philippines' economic and social development, particularly its generous assistance to the Philippines in its fight against the COVID-19 pandemic. Developing friendly relations with China serves the interests of the two peoples and is also the majority will of the Philippine people. Rodrigo Duterte expressed his readiness to continue to play his role in promoting the Philippines-China friendship.
Wang Yi attended the meeting.